An exceptional wealth
Ibex, ermine, nutcracker...
The richness of the fauna of the Vanoise National Park is undeniable. From large ungulates to birds, from insects to amphibians.
Herbivores (deer, roe deer, chamois, ibex... they are all present in Aussois and in Haute Maurienne Vanoise), rodents (the variable hare which changes its livery during the seasons, the marmot which is easily seen in spring and summer in the vast alpine meadows or in the valleys such as that of the Fond d'Aussois, various voles (snow vole, collared field mouse), carnivores (fox, badger, marten, weasel, ermine), bats (common pipistrelle, northern earwig) and insectivores such as the water shrew.
Among the 125 species of birds nesting in Vanoise, we find: the golden eagle, the crossbill, the nutcracker, the Tengmalm's owl, the black flycatcher, the great horned owl, the rock blackbird, the black grouse, the rock partridge, the rock ptarmigan, the black woodpecker, the three-toed woodpecker (observed in France only in Savoie and Haute Savoie) and the amazing tichodrome that can sometimes be seen on the walls of the track that goes up along Plan d'Amont.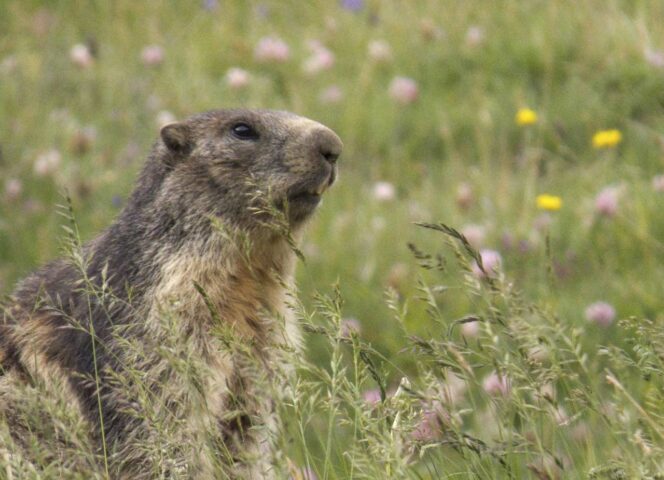 One third of the flora of France
The latest synthesis on the flora of France "Flora Gallica", published in 2014, lists about 5000 species of vascular plants (ferns and allied plants, conifers and flowering plants) in metropolitan France. The Vanoise massif alone gathers 1700 species, that is to say a third of the flora of France on less than 0,5 % of the national territory! In spring, you can contemplate fields and mountain pastures in bloom with a thousand colors. The wild orchids are numerous, like the superb Sabots de Vénus, as well as the famous edelweiss.
This exceptional diversity is explained by the variety of environments present, by the different levels of altitude (from 1000 to 3800 meters in Haute Maurienne Vanoise), by the range of exposures and by the strong differences in the chemical composition of the rocks and soils. Aussois and the Haute Maurienne Vanoise, at the limit between the Northern Alps and the Southern Alps, also benefit from different climatic influences which offer the fauna and flora vast possibilities to flourish.