The Nordic domain of Aussois
Opening dates of the ski area from December 17, 2022 to March 19, 2023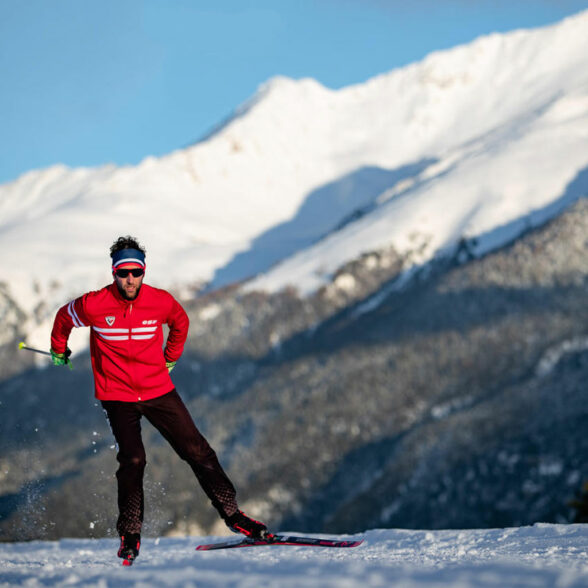 1 500 m - 1 600 m
Nordic ski area of Aussois-Val Cenis Sardières
The Nordic domain of Monolithe extends from 1500 to 1600m between Aussois and Val Cenis Sardières.
It owes its name to a geological curiosity in cargneule, sedimentary rock, 93 m high located in the forest near the slopes which looks like a needle or a huge menhir.
Once you have put your skis on, the plateau around the Nordic Chalet allows children and beginners to discover their first sensations of classic skiing or to learn directly about skating.
For the more experienced skiers, this area is recommended for a good warm-up before setting off to conquer the numerous ascents and descents of the domain.
Want to discover biathlon? Ask for information at the Nordic Chalet or contact our biathlon instructors who offer laser biathlon lessons by appointment.
Want to improve your classical/alternative skiing or skating skills?
Contact our instructors, they will be able to give you the tips you need to get the most out of your skiing: you'll have miles of fun!
Departure from the Cross (accessible by car, shuttle or in 15 minutes on foot) from the village towards Sardières.
Val Cenis Sardières and Aussois benefit from a privileged sunshine thanks to their southern exposure.
A Nordic chalet located in Val Cenis Sardières welcomes you 7 days a week during the season to give you all the necessary information for your cross-country skiing.
At your disposal a picnic room, very appreciated for picnics and bad weather. This location is often the meeting place proposed by the cross-country skiing and biathlon instructors.
2 green runs - 3 blue runs - 3 red runs - 1 black run
39 km of skating and alternative trails